Activities in the Area
There are many activities in the Mansfield/Merrijig area such as snow skiing (in winter), horse riding, Lake Eildon boating and fishing, bushwalking, hot air ballooning, golf, plus Mt Buller's many winter and summer activities. Weekend events range from Mansfield's bush markets, which are held four times a year, to the Tolmie Sports day held every year in February and the Merrijig Rodeo which is held on Labour Day weekend, ensuring that there is plenty of activities to entertain you all year round.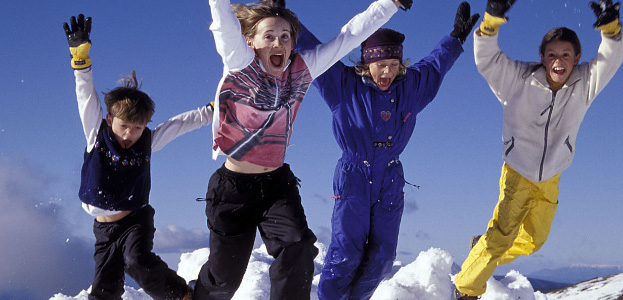 Note that businesses listed below with links will take you away from the Off Mountain Accommodation website and onto another website.
Mt Buller
With glorious views across the Alpine National Park, snow activities in winter and bushwalking or mountain bike riding in summer, Mt Buller is a great place to visit all year round.
Mt Buller Resort Management Board
For all information regarding activities on Mt Buller.
Tel: 03 5777 6077
www.mtbuller.com.au
Mansfield Mt Buller Bus Lines
Tel: 03 5775 2606
www.buslines.com.au/mmbl
Horse Riding
There are a number of trail riding businesses in the area, offering yard led walks for the young ones, through to weekend trips and longer rides. Have a look at their sites. It is important to book early to avoid disappointment.
High Country Horses Trail Rides
Watsons Mountain Country Trail Rides
McCormacks Mountain Valley Trail Rides – www mountainvalleytrailrides.com.au
Hidden Trails – www.hiddentrails.com.au
4WD Tracks
The alpine area has hundreds of 4WD tracks, most of which open over the summer season. Talk to the Mansfield Information Centre on 1800 039 049 for up to date information on which tracks are open.
4WD Tours
Take a scenic tour to explore the High Country. Visit the famous Craig's Hut which has recently been rebuilt following its destruction during the 2007 bushfires.
Helicopter Rides
If being on the ground is too slow – take the opportunity to explore the Alpine Region from the air!
Alpine Helicopter Charter
Bush Walking
There are many great walking tracks in the area. Check with the Mansfield Information Centre on 1800 039 049 or www.mansfield-mtbuller.com.au more information on bushwalking tracks.
Fishing, Hunting and Camping
Drop in to the Snowy Mountain Rug Company to get the low down on the best fishing and camping spots in the area. Mansfield Hunting & Fishing, Outdoor Pleasure and Snowy Mountain Rug Company will have all the gear to back you up on your next adventure.
Outdoor Pleasure
52 High Street Mansfiel
Tel: 03 5775 2826
www.outdoorpleasure.com.au
Snowy Mountain Rug Company
Shop 2/165 Mt Buller Road Mansfield
Tel: 03 5775 1105
snowymountainoutdoorcentre.com.au
Mansfield Hunting & Fishing
125 High Street Mansfield
Tel: 03 5779 1685
mansfieldhuntingandfishing.com.au
Golf
Mansfield Golf Club
24 Kidston Pde Mansfield 3722
Tel: 03 5775 2628
Golf course opens at 7.00am till dusk
Bingo Monday nights 8.00am
www.mansfieldgolfclub.com.au
Ski Hire
Ski Chute 4
11 High Street Mansfield
Tel: 03 5775 1301
www.skichute4.com.au
Alzburg
39 Malcolm Street Mansfield
Tel: 1300 885 448
www.alzbug.com.au
Mansfield Zoo
Mansfield Zoo is one of North East Victoria's hidden secrets, with a large collection of exotic and native animals on 30 acres of picturesque parkland featuring lovely views across the Delatite Valley to Mt Buller. Hand feed many of the animals as you wander! Meet Sophia and Miss Greedy, our friendly fallow deer, and Joey the Grey Kangaroo, just some of the animals who will interact with you as you stroll around. Watch the White Lions being fed. Bring along family, friends and a picnic lunch, or sample local wine and fare in our licensed cafe. For those who are more adventurous, stay overnight in a swag and fall asleep to the roar of the lions!
1064 Mansfield-Woods Point Road Mansfield
Tel: 03 5777 3576
www.mansfieldzoo.com.au
High Country Maze
678 Piries Goughs Bay Road Goughs Bay
Tel: 03 5777 3190
www.highcountrymaze.com.au
Mansfield Armchair Cinemas
1 Chenery Street Mansfield
Tel: 03 7557 2049
www.the-mac.com.au
Mansfield Mini Golf
Mansfield Holiday Park
Mt Buller Road Mansfield
Merrijig Rodeo
Tel: 03 5775 1383

Restaurants
Bos Taurus
13-15 High Street Mansfield
Tel: 03 5775 1144
www.thedeckonhigh.com.au
The Mill Inn Restaurant and Bar
1 Alpine Ridge Drive cnr Mt Buller Road, Alpine Ridge
Tel: 03 5777 5868
www.millinn-merrijig.com
Amongst The Sticks
12 Bayside Boulevard Goughs Bay
Tel: 03 5777 3030
www.thesticks.com.au
Range View Restaurant
Mansfield Golf Club
24 Kidston Parade
Curry Garden @ Mansfield
21 Highett Street Mansfield
Tel: 03 5775 1423
Mansfield Thai
141 High Street Mansfield
Tel: 03 5779 1940
www.mansfieldthai.com.au
Brumby's Bistro – Merrijig Motor Inn
1915 Mt Buller Road Merrijig
Tel: 03 5777 5702
www.merrijigmotorinnresort.com.au
Take-Away
Mansfield Pizza
Tel: 03 5775 3088
Cafés
The Produce Store
68 High Street Mansfield
Tel: 03 5779 1404
Café 41
41 High Street Mansfield
03 5775 2951
The Witches Brew
28 High Street Mansfield
Tel: 03 5775 2623
Hotels/Pubs
Mansfield Hotel
86 High Street Mansfield
Tel: 03 5775 2101
Hotel Delatite
95 High Street Mansfield
Tel: 03 5775 2004
Commercial Hotel
83 High Street Mansfield
Tel: 03 5775 2046
Hunt Club Hotel
Mt Buller Road Merrijig
Tel: 03 5777 5508
Tolmie Tavern
Tatong Tolmie Road Tolmie
Tel: 03 5776 2389
Kevington Hotel
1 Woods Point Road Kevington
Tel: 03 5777 0543
Courthouse Hotel
25 Perkins Street Jamieson
Tel: 03 5777 0503
www.courthousehoteljamieson.com
Supermarkets
Both Marks Supa IGA and Foodworks are located in High Street Mansfield and are open from 8am til 8pm.
Bottle Shops
All hotels and supermarkets sell take away liquor.
Video Hire
High Country Video
115 High Street Mansfield
Tel: 03 5775 1666

Check out the Mansfield, Murrindindi & Strathbogie Shires Visitor's Guide for more things to do! Click on the link and you'll see this magazine as an e-magazine.